The Medicare Access and CHIP Reauthorization Act (MACRA) of 2015 mandates that the Centers for Medicare & Medicaid Services (CMS) remove Social Security Numbers (SSNs) from all Medicare cards by April 2019. All Medicare accounts will be updated with a new Medicare Beneficiary Identifier (MBI) beginning in April 2018, which will replace the SSN-based Health Insurance Claim Identifier (HICN). From April 1, 2018, through December 31, 2019, a transition period will be in place, during which both the MBI and HICN are accepted for Medicare transactions.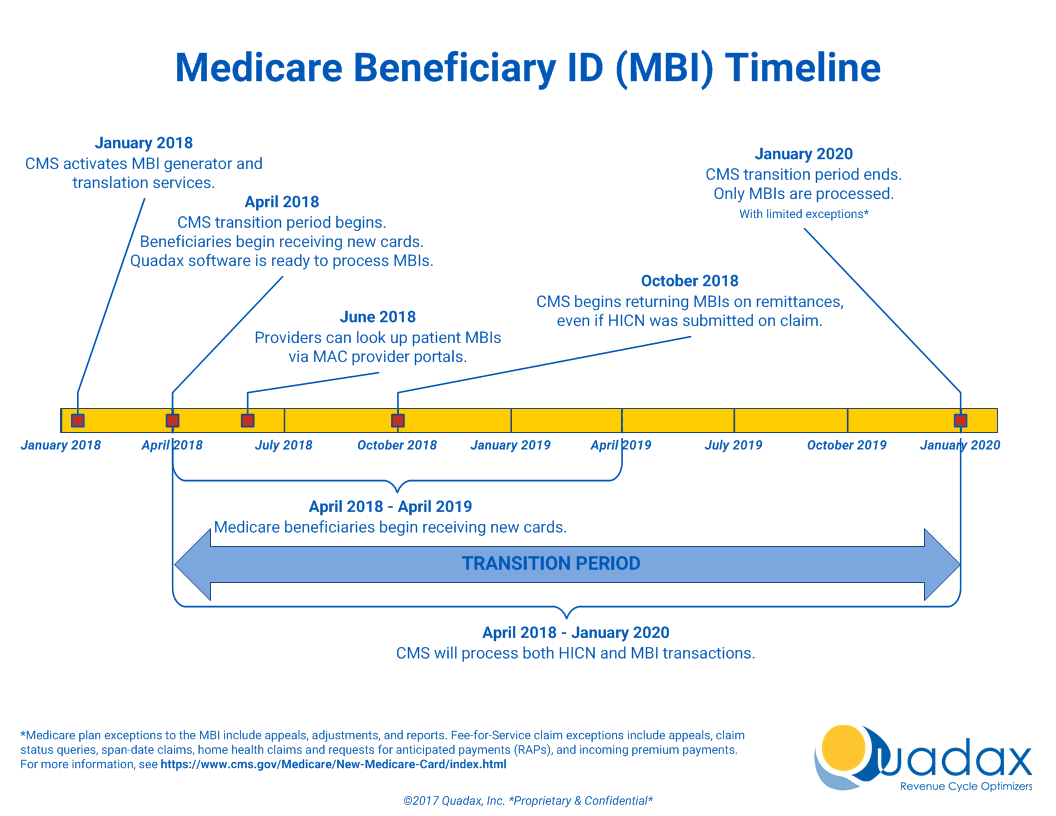 To prepare for this change, Quadax will be updating several elements of our software by April 1, 2018. These updates will ensure that Quadax's suite of Revenue Cycle Management products can seamlessly make the switch to the new MBI.
This page will be a resource for information on Quadax's efforts to help our clients with the shift to MBIs.
UPDATES:
The MLN Fact Sheet, "Transition to New Medicare Numbers and Cards" published by CMS October 2017 answers a number of questions about using the new identifier, and gives information about the format for the MBI, which will be 11 alpha-numeric characters.
To assist in communicating the change to patients, CMS created a one minute video to explain when and how patients will receive their new card. Consider playing the New Medicare Cards Are Coming video in your waiting room.