Quadax Employee and Clients Aid Flood Victims in West Virginia
By: Jennifer Dorsey, Senior Technical Communication Specialist
Severe flooding struck West Virginia last week, devastating more than 1,200 homes across numerous counties. The central and southern regions were hit the hardest, including Fayette County, where Quadax EDI Account Representative Candy Thompson lives. Candy was lucky: her town is on a hill, so it escaped the flooding. But many towns around her did not, and she knew she wanted to find a way to help those in need.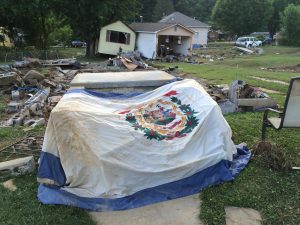 Candy travels all over West Virginia to support her clients, and with client visits scheduled in the northern part of the state soon after the flooding, she took the opportunity to ask on Facebook if anyone in the area wanted to donate. A simple Facebook post yielded more generosity than she could have imagined. Responses rolled in from her clients who wanted to help. Some had already given to flood relief efforts through other means but wanted to help even more. "Their kindness brought me to tears," she said. That's what West Virginians do. We come together and support each other." Candy borrowed her church's van and as she completed her client visits, she loaded it up with their donations—everything from food and water to towels, cleaning products, and even coloring books for kids. Some clients gave monetary donations as well. Her clients donated so much that she had to call for a second van! Candy was incredibly thankful, saying "I am humbled by the outpouring of love and support I have received from my Quadax clients."
On her way home, she stopped at stores in northern West Virginia to buy much-needed items that were sold out in her area: buckets, bleach, sunscreen, bug spray, and more. She even inspired kindness in the store employees, who offered to buy some items themselves for her to take back with her. She brought it all to the Nuttall Community Center, a designated drop-off location for donations in her home county of Fayette.
Quadax is proud to have employees like Candy, whose compassion, energy, and leadership are unwavering, even in the midst of crisis. She has cultivated strong, positive relationships with her clients, who also showed enormous generosity in supporting her flood relief efforts. St. Joseph's Hospital, United Hospital, Grafton City Hospital, Monongalia General Hospital, WVU Medicine, and
Berkeley/Jefferson Medical Centers all made donations for Candy to deliver. Summersville Regional Medical Center, another client, is offering free tetanus shots, recommended for those working in flood cleanup. The kindness and selflessness shown by Candy and her clients is overwhelming, and Quadax is honored to work with them.