Solve issues early, collect payment faster.
Patient Access Solutions
Collect more by finding and fixing inaccurate patient data faster, verifying payer rules and regulations upfront, and even estimating a patient's out-of-pocket responsibility.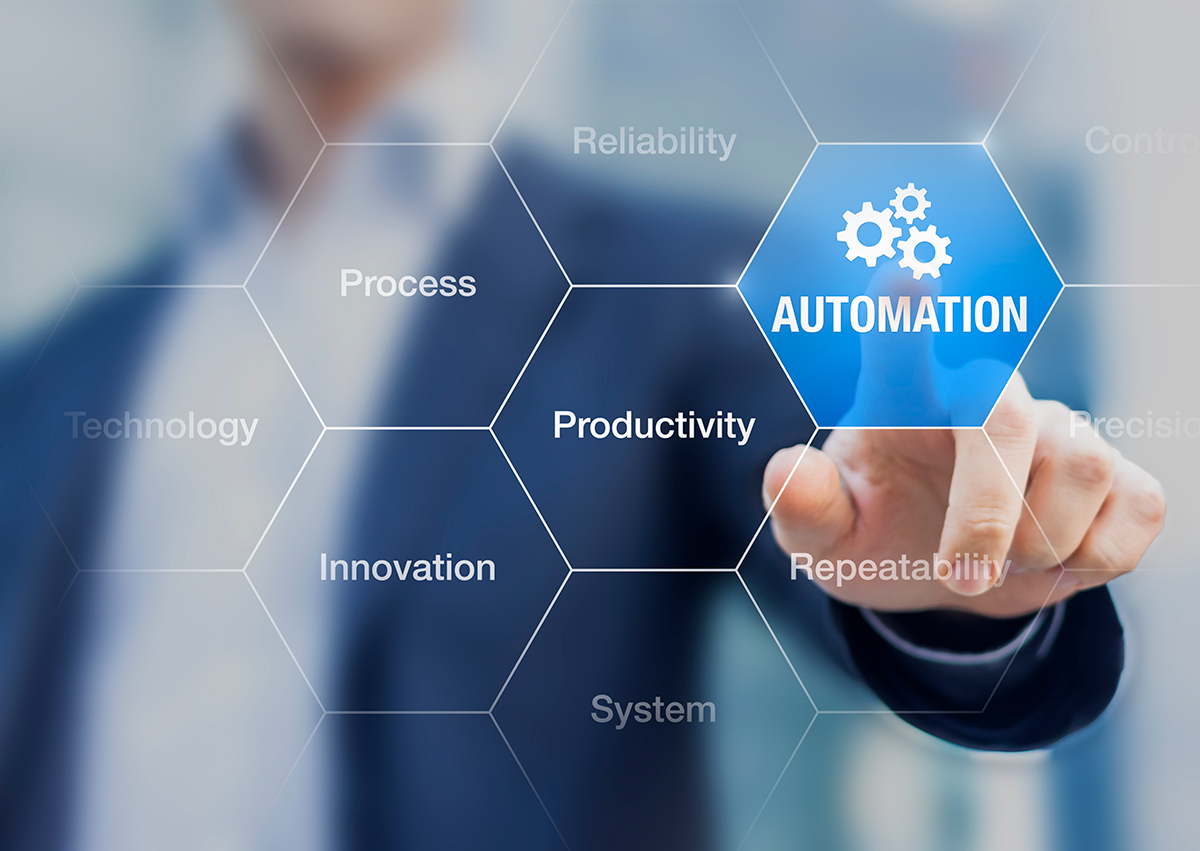 Ease The Burden With Integration Into Your Existing Workflow
Streamline Workflow, Reduce Manual Processes & Avoid Additional Resource Investment
Managing a billing workflow can often take an entire team to unite processes and systems. The Quadax Patient Access Management solution is engineered to integrate with your current systems whether you choose to add technology solutions or supplement parts of your billing processes to streamline your workflow and ease the manual burden on your staff. Integrated at the point of decision for streamlined efficiency, our APIs work alongside your existing systems to assist with automated patient access efforts.

With Quadax, you have options. Our ability to produce a system flexible enough to fit any business's unique needs, whether it be in-house billing, outsourced to our internal operations, or a hybrid of both comes from a long history of processing billions of transactions.
Explore Patient Access Solutions
Patient Identification
Validate patient demographics to reduce data errors and prevent associated claim denials.
Quadax Patient ID helps ensure highly accurate patient demographic data so you can…
Improve demographic accuracy and collection efforts by verifying and updating patient identity and demographic information in real time to streamline the billing process.
Reduce data entry errors by confirming an address as a known location formatted to meet United Postal Service standards and correctly matched to a patient's name.
Protect against medical identity theft by enhancing compliance with Red Flag regulations and assure patients that their health records are in good hands.
Insurance Eligibility And Enrollment
Confirm patients' insurance eligibility coverage and benefits to determine patient responsibility and reduce claim denials
Quadax Insurance Eligibility solution helps you capture accurate patient eligibility and benefits information prior to or at the time of service so you can…
Increase insurance eligibility hit rates.
Reduce claim denials and expensive reworks to obtain accurate information.
Lower bad debt.
Improve workflow efficiency.
Reduce manual processes of phone calls and portal visits to obtain eligibility information.
Lower billing and collection costs.
Charity Financial Clearance
Get a complete picture of a patient's ability and willingness to pay to aid in your determination to provide financial assistance.
Quadax Patient Financial Clearance solution provides detailed patient financial data so you can …
Reduce bad debt and avoidable write-offs.
Set appropriate payment expectations and manage self-pay patients.
Provide transparency to improve client and patient satisfaction.
Prior Authorization Software
Verify prior authorization requirements and medical necessity per payer policy sooner to ensure tests are approved and help protect expected revenue
Quadax Prior Authorization and Medical Necessity solutions help verify authorization requirements and meet medical necessity sooner to ensure services are approved and subject to reimbursement so you can…
Connect earlier with ordering physicians on payer needs to secure next steps in treatment and required approval and/or documentation.
Help enhance the client and patient experience.
Avoid denials and save time and operational resources by utilizing a streamlined process to obtain physician-initiated prior authorization or medical necessity.
Avoid bad debt and write-offs, protect expected revenue, and increase the probability of collecting expected revenue.
---
Submit And Track All Physician-Initiated Prior Authorizations Electronically Through A Single Platform And Ease The Burden On Staff And Time Resources.
Quadax Prior Authorization solution helps you to submit and track all physician-initiated authorizations in real-time so you can…
Streamline your workflow, saving time and resources
Get pre-claim requirement direction and release test results sooner
Prevent denials and protect expected revenue
---
Confirm Medical Necessity Payer Policy Requirements To Further Verify What A Patient Will Owe For Covered And/Or Non-Covered Tests.
Quadax Medical Necessity solution helps you verify what a patient will owe for both covered and non-covered services so you can…
Decrease claim denials and increase net revenue
Ensure expected reimbursement is received
Increase client and patient satisfaction through transparent pricing
Improve workflow efficiency by automating compliance checks
Out-Of-Pocket Estimation
Provide patients with financial impact information to avoid surprise bills and improve transparency on expected costs.
Quadax Out-of-Pocket Estimation solution provides patients with accurate out-of-pocket cost estimates in advance so you can…
Optimize workflow and staff efficiency by automating the financial clearance process and reducing patient demographic data errors.
Improve transparency and patient satisfaction by fostering informed patient healthcare decisions through an understanding of their out-of-pocket costs.
Help staff better understand and explain benefits and out-of-pocket costs to patients with an easy to understand estimate letter.
Determine Financial Aid Status
Effectively identify eligibility for financial assistance and streamline the financial counseling process.
Quadax Financial Aid delivers the following attributes:
Estimated household size and income
Debt-to-income ratio
Percent of Federal Poverty Level
Residual income
Configurable financial aid status messages
Identify Propensity To Pay
Quickly decide a patient's ability and probability to pay their financial responsibilities.
Quadax Propensity to Pay helps reduce the costs to collect by identifying which patients are more likely to pay based on:
Available credit information
Propensity to pay scores
Configurable propensity to pay status messages
Financial Aid Screening
Optimize collections by identifying patients that should be further evaluated for financial aid.
Quadax Patient Financial Clearance solution provides detailed patient financial data so you can …
Patient interview tool
Centralized program repository
Estimated household size and income
Complimentary solution
Revenue Cycle Management Metrics
Intelligence by Quadax is a critical reporting and analysis solution designed to help you gain insight into your data to achieve efficiency gains and improve financial performance. Components of Intelligence by Quadax include: Decision Intelligence, Predictive Intelligence and Data Intelligence.
Decision Intelligence
Gain real-time insight into complex revenue cycle data, understand data patterns and correlations, and be alerted to key events for informed decision-making.

Now you can leverage actionable data for quick resolution to more effectively reach successful business outcomes—having a big impact on patient satisfaction.
Predictive Intelligence
Empower business decisions with data-driven predictions.

One of the most valuable data assets is being able to prevent a negative outcome. With Intelligence by Quadax and our Artificial Intelligence (AI) technology, you can utilize data-driven predictions to improve workflow and maximize reimbursement.


Data Intelligence
Take a deeper dive into your data and the KPIs relevant to your organization.

Whether you provide us with your data and access it through our Intelligence platform or are provided data via API into your environment, this solution enables self-service for quick analysis of, and answers to, everyday problems including business, operational, financial and more!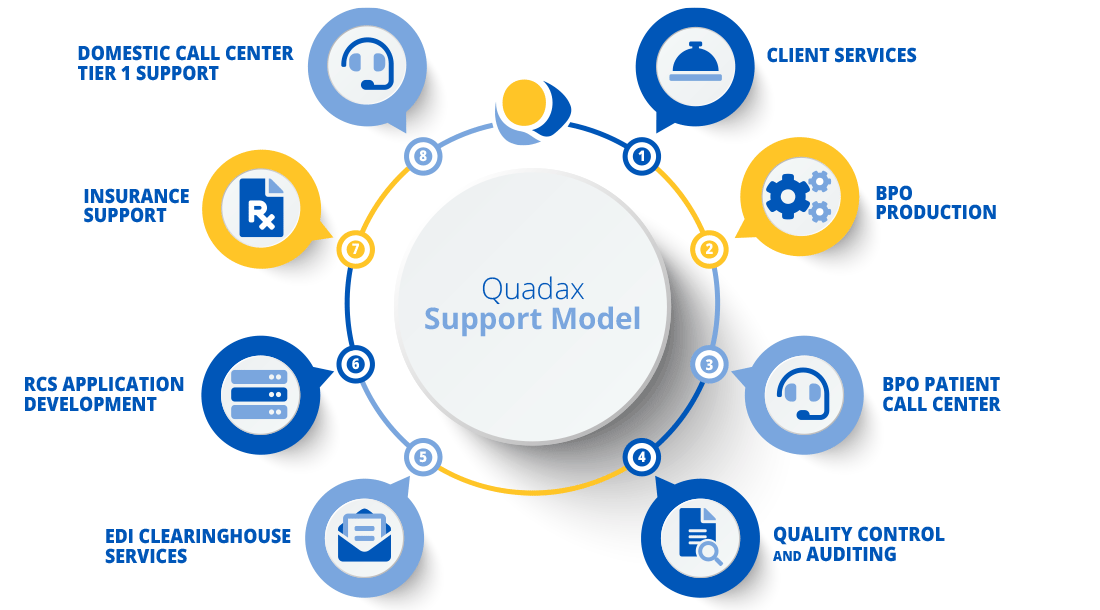 Consulting & Reimbursement Support Services
Rely on the Experts
While we offer an industry-leading purpose built RCM solution for, Quadax's greatest strength is our experience around implementation and ongoing support given our extensive history of meeting a variety of billing, reimbursement and industry challenges. The client service team is supplemented with various dedicated resources within Quadax to react quickly to client needs, not only during implementation but throughout the engagement.